a village located in Kreis Greifenberg, Pommern, Prussia, and his wife Catharina Sophia Ruhnke, born March 25, 1808. Her birthplace is unknown. Unfortunately, we do not have a picture of either of them.

Pictured below is the family of one of their sons, our great-grandfather, who proudly carried the same name as his father, Johann Friedrich.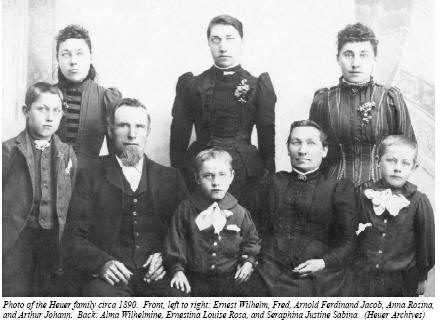 This Heuer Family emigrated from Pommern to Bremen and boarded the ship Laura to New York, arriving June 7, 1857. They were processed at Castle Garden and set out for Buffalo, their first stop while en route to Wisconsin. There was a good reason they stopped in Buffalo, but you'll have to read the book to learn why!

After a few short weeks in Buffalo, they moved to the western shores of Lake Michigan, first to Cedarburg, Ozaukee County, Wisconsin and in late 1859 they moved to Ahnapee, Kewaunee County. The town of Ahnapee was later named Algoma

This website is devoted to and follows the ancestors and descendants of Johann Friedrich and Catherina Sophia Heuer. Their Children in birth order;
Name

Birth Date

Died

Place of Birth

Wilhelmine Caroline Rosaline Heuer Bergin Brandt
12 Oct 1833
8 Dec 1908
Tressin, Kreis Greifenberg, Pommern, Prussia
August Ferdinand Heuer
2 Jul 1836
22 May 1865
Tressin, Kreis Greifenberg, Pommern, Prussia
Ferdinand Karl Heuer
9 Oct 1839
17 Dec 1919
Borntin, Kreis Greifenberg, Pommern, Prussia
Johann Friederick Heuer
28 Oct 1842
25 Oct 1872
Borntin, Kreis Greifenberg, Pommern, Prussia
Johann Friederick Heuer Decendants
Ernestine Caroline Friedericke Heuer
2 May 1845
30 May 1915
Borntin, Kreis Greifenberg, Pommern, Prussia
Bertha Friedericke Sophia Heuer
25 Sep 1849
27 Nov 1911
Borntin, Kreis Greifenberg, Pommern, Prussia
Augusta Marie Elizabeth Heuer Raether
7 Jan 1855
22 Oct 1945
Borntin, Kreis Greifenberg, Pommern, Prussia
They sailed to America aboard the Laura
The Laura was a bark, a 3-masted sailing vessel, the front two (foremast and mainmast) square-rigged, the sternmost (mizzenmast) rigged fore-and-aft (for a pictorial representation of the major elements of the bark rig, see the Peabody Essex Museum's web page, "Rigging of American Sailing Vessels").
The Laura was built by Peter Sager, of Vegesack, and launched on 26 March 1857. 196 Commerzlasten/442 tons register, 36,2 x 8,5 x 4,7 meters (length x breadth x depth of hold); Commercial Code signal letters Q.B.W.P.
She was owned jointly by H. von Fischer, Bremen, and her captain, Hans Jurgen Wilmsen, of Vegesack, each of whom held a half share. Wilmsen was succeeded as captain by Loius Schmidt, also of Vegesack, who was succeeded in 1867 by Wilhelm Wilmsen; for part of that year H. Maass, first mate, acted as master, during Wilmsen's illness.
On 22 September 1866, on a voyage from Bremen to Baltimore with 210 passengers, the Laura was severely damaged by a hurricane, during the course of which 8 passengers were swept overboard and drowned.
In 1874, the Laura was sold to M. L. Stranne, of Foglavik, Sweden, who renamed her Josefina; her new master was O. Berndtsson. On 24 January 1877, the Josefina arrived at Buenos Aires from Bordeaux' in the course of unloading her cargo, the vessel caught fire, and became a total loss. (Back to top of page)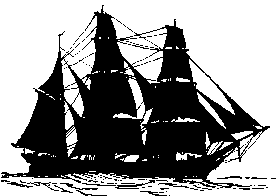 The bark is a three-masted vessel with the foremast and mainmast square rigged and the mizzenmast fore-and-aft rigged. The mizzenmast carries no yards: there is a hoist-and-lower fore-and-aft sail and a gaff topsail.